The BDR-19™ has received Emergency Use Authorization

Maximum Functionality in a Minimally-sized Device
Full Function, Cost-Effective Ventilator

Designed for Long Term Critical Care 

Provides Full Continuum of Ventilatory Support

Functions as both an Invasive and Non-Invasive Ventilator

Mandatory and Assisted Ventilation

BPAP, PRVC, and PC-CMV Modes
Can be used for 

intra-facility transport (2hrs)

Simple and Intuitive User Interface

Dependable, Safe and Easy to Learn and Operate

Designed and Built to Stringent FDA Standards

Allows for easy maintenance and long-term stockpiling

Engineered and Manufactured in the U.S.
Comprehensive Capabilities
The BDR-19™ is fully ICU-capable and provides a full spectrum of ventilatory support sufficient for any critically ill patient requiring invasive or non-invasive ventilation.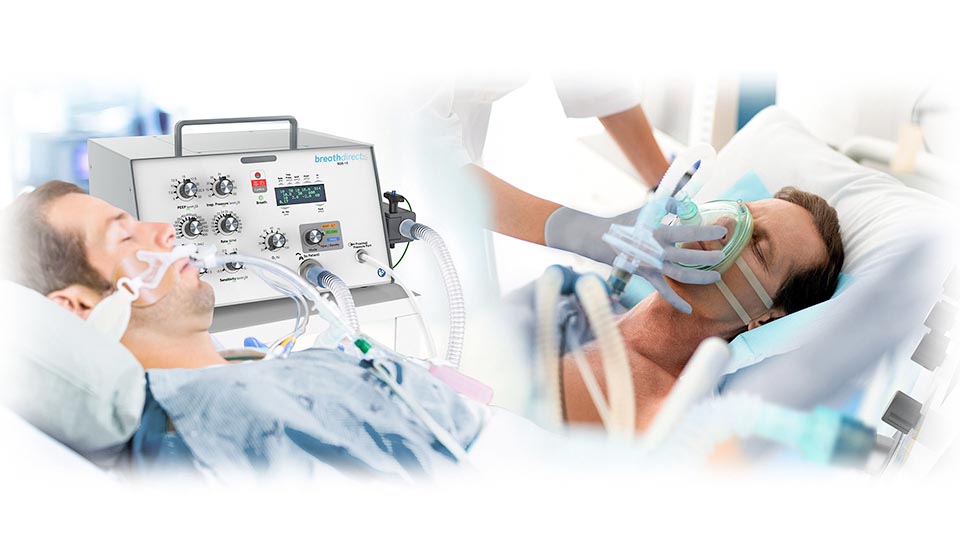 Delivers the three most frequently used modes of ventilation, sufficient for even ARDS patients:

• Bilevel Positive Airway Pressure (BPAP) – which includes a back-up rate – conforming to the highest critical care ventilator standards

•

Pressure Regulated Volume Controlled Ventilation

(PRVC) – utilized to wean a patient from dependency on the ventilator.

• Continuous Mechanical Ventilation (CMV)

The BDR-19™ Ventilator has an Internal Oxygen Blender so oxygen concentration can be set on the machine without an external device. 

The FIO2 control can be set at 21%, and from 30-100% in 10% increments. The FIO2 control is independent of other controls – which facilitates convenient, safe and effective use in the ICU critical care setting.

Full complement of Alarms including:

Operator, Adjustable, High and Low Tidal, Volume, Fixed Alarm, Low and High PEEP, Low and High Inspiratory Pressure, Rate, Mandatory Ventilation in BPAP-S/T mode


Special Alarms:





Mains Power Lost, Battery Low, Battery Critically Low, Loss of Internal Voltage, Loss of Gas Supply, Hardware Failure, Power Off While Ventilating, Power On Self-Test, Fault, Loss of Flowrate Signal During Ventilation, 

Speaker, 

Multitonal, High, Medium and Low Priority, 

Backup Buzzer, 

Single Tone, Hardware Fault

External Exhalation Valve

No proprietary vent circuit required and uses simple exhalation valve and paper-filter PM kit.
Cost Effective
The BDR-19 is fully ICU-capable with invasive and non-invasive modes at a price point below full-featured ICU vents. The per-patient cost of the BDR-19 is low and disposables procurement is stress free.
• Low aquisition cost
• Low per-patient cost
• Low cost for consumables

The BDR-19™ provides a viable alternative to expensive short-term ventilator rentals
Intuitive
The BDR-19™ has comprehensive capabilities but is easy to learn and operate.
User interface consists of only eight dials and a single segmented LED display.
 

All controls are immediately visible and adjustable on one tactile surface with no multi-level touch screen menus to navigate and memorize.

Settings are clearly marked and set with tactile dials
Visual cues guide user through setting up the selected mode of ventilation – Color-coded LEDs indicate the key settings for adjustment relevant to each selected mode of ventilation.
Ergonomic
The BDR-19™ is Compact and Lightweight with a Small Footprint – able to stay with a patient through each phase of their respiratory treatment. Built primarily for intensive care units, it can operate equally well in emergency wards, recovery rooms and for intermediate care, as well as for short-term intra-hospital transport.
Size: 415mm W x 368mm D x 243mm H.
Weight: 11.2Kg
Can be easily carried, placed beside a bed, in a transport vehicle or on a cart.
Can be deployed to any acute-care setting, even when bedside space is limited.

Facilitates ergonomic intra-facility transport of critically-ill patients.

Operates for 2 hours w/o wall power for intra-facility transport.

Optional roll-cart is available for counter-less use.
Easily Maintained
The BDR-19™ is simple to maintain and clean and provides stress-free disposables procurement. It resists contamination and is durable during heavy use and while in storage for extended periods of time.
| | |
| --- | --- |
| | Maintains positive pressure and valves to prevent entrainment of contaminated room air – can be cleaned with a wipe down between patients. |
| | Vent circuit agnostic – exhalation valve is the only proprietary disposable and is easy to replace between patients. |